The 15 Best Weekender Bags for Your Short Getaways
The rhythm of life is often set to the tempo of work and routine. But, sometimes, the heart yearns for a sweet pause, an unplanned adventure, or a quick escape from the ordinary. 
These impromptu journeys need a companion that's as spontaneous, stylish, and functional as your spirit - a perfect weekend bag. As the doorway to your short escapes, a weekender bag is more than just a vessel to carry your essentials. It's a symbol of your freedom, a reflection of your style, and a testament to your efficiency. 
To aid you in your quest for the perfect weekend bag, we've compiled a list of the top 15 options that combine aesthetic appeal, innovative design, and versatile functionality. 
We have chosen each item with great care to ensure that they cater to the diverse needs of today's travelers. So whether you're escaping for a solo trip, a business rendezvous, or a much-needed weekend retreat, these bags will make your journey much more enjoyable.
Table of Contents
Herschel Novel Duffle Bag
Herschel's Novel Duffle Bag is an elegant option for the modern traveler. Its standout feature is a separate shoe compartment, keeping your footwear isolated from your clothes. This item is made from durable synthetic fabric. This bag offers a generous storage capacity without looking bulky.
Everlane The Mover Pack
True to its name, the Everlane Mover Pack is designed for those who are always on the move. The versatile bag can be a backpack and a duffle, offering hands-free convenience. Made from a water-resistant polyester weave, it is resilient and has multiple compartments for easy organization.
Away The Weekender
The Weekender by Away is a classic, minimalist canvas bag featuring a roomy interior, a shoe compartment, and a laptop sleeve. Its exterior sleeve slips over any Away suitcase handle, making it perfect for longer trips.
Cuyana Weekender Bag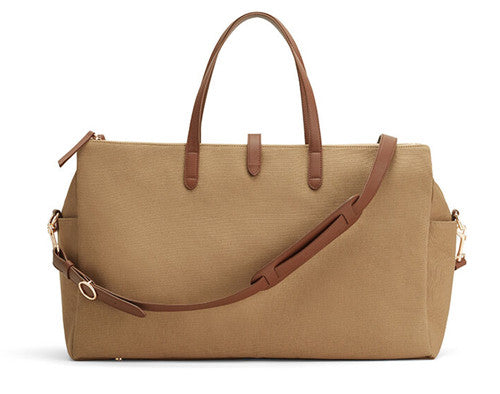 Cuyana's Weekender Bag encapsulates luxury and utility. Made from premium Turkish canvas and Italian leather, it is roomy enough for all your essentials yet compact and sufficient for carry-on travel. Its interior zip pocket allows for easy organization.
Sole Society 'Cassidy' Faux Leather Duffle Bag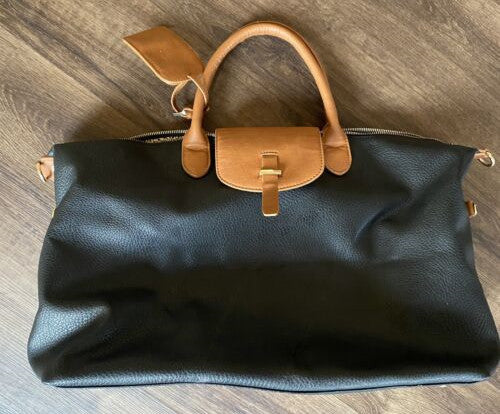 This vegan leather duffle bag from Sole Society combines style and affordability. Its structured design offers plenty of space and includes a detachable shoulder strap for versatility. The 'Cassidy' is a testament to the fact that you don't have to break the bank for a stylish weekend bag.
Fjallraven Splitpack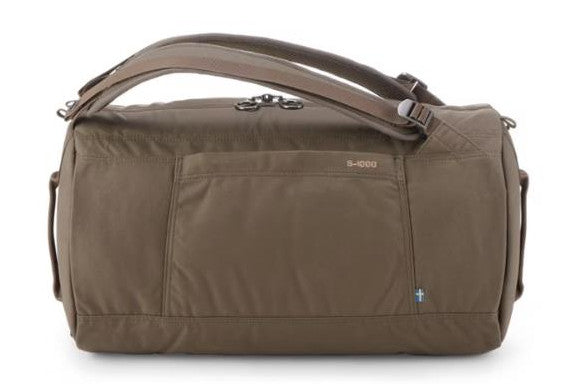 The Fjallraven Splitpack is a unique blend of a duffle and a backpack. Its innovative design opens up like a suitcase, making packing and organizing a breeze. Made from the brand's robust G-1000 HeavyDuty Eco fabric, it is a perfect choice for adventurous travelers.
Patagonia Black Hole Duffel Bag 40L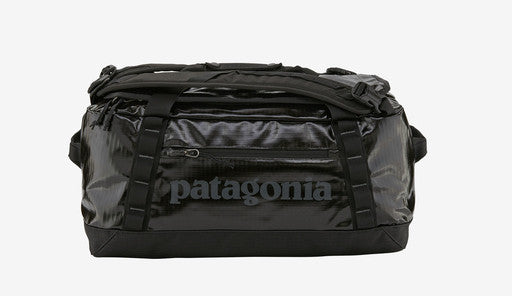 The Patagonia Black Hole Duffel is ideal for those needing a durable, weather-resistant bag. Crafted from ripstop polyester, it features padded, removable shoulder straps and several pockets for optimal organization. Despite its durability, the bag packs down into its pocket for easy storage when not in use.
Dagne Dover Landon Carryall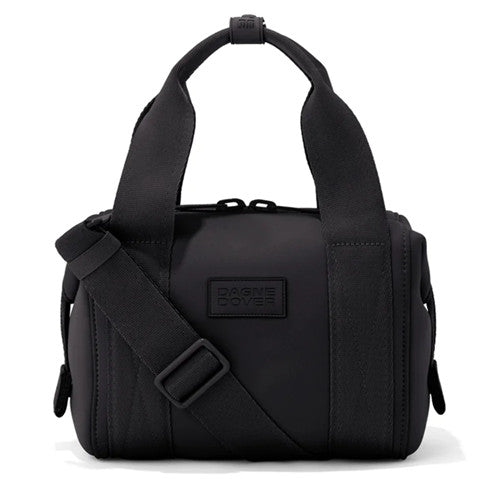 The Landon Carryall from Dagne Dover is a smart and functional option for weekend getaways. It is made from premium neoprene and features a laptop sleeve, shoe duster, and air mesh pouch. Plus, it's available in a wide range of sizes and colors.
Beis The Weekender Bag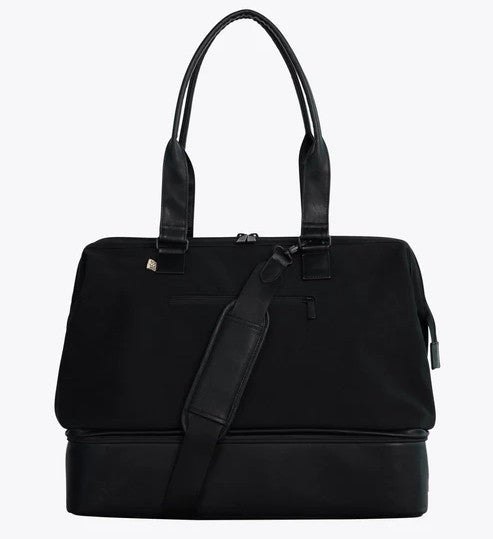 Beis' Weekender Bag offers a chic aesthetic with practical features like a bottom compartment for shoes or dirty clothes and a padded laptop pocket. The canvas material is water-resistant, and the faux leather details add a touch of sophistication.
Longchamp Le Pliage Expandable Travel Duffel Nylon Weekender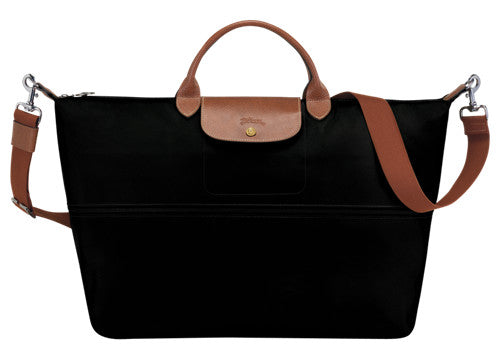 This expandable duffel from Longchamp provides flexible storage options, perfect for those "just-in-case" packing moments. This item is crafted from water-resistant nylon and features leather trim. You can conveniently store this item by folding it flat, making it an adaptable travel valuable companion in various situations.
Tumi Just In Case Travel Duffel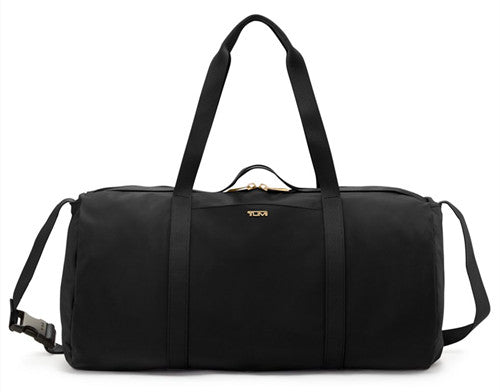 Tumi's Just In Case Duffel is a lightweight, sturdy option made from durable nylon. It features a generous main compartment and packs into its pocket when unused. This bag is perfect for those needing an extra load on their return trip.
Madewell The (Re)sourced Weekender Bag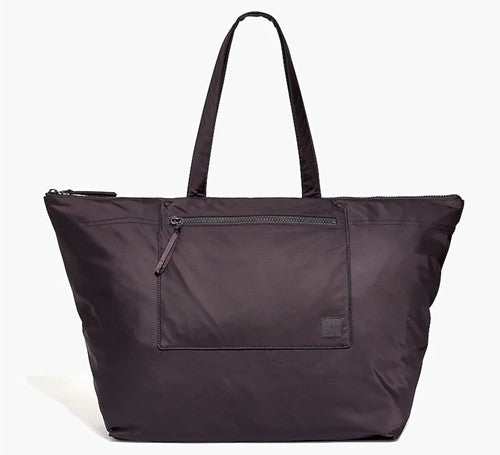 Sustainable and stylish, Madewell's (Re)sourced Weekender Bag is made from recycled materials. It features leather trim, plenty of pockets for organization, and a removable shoulder strap, offering a perfect blend of practicality and design.
Leatherology Kessler Medium Duffle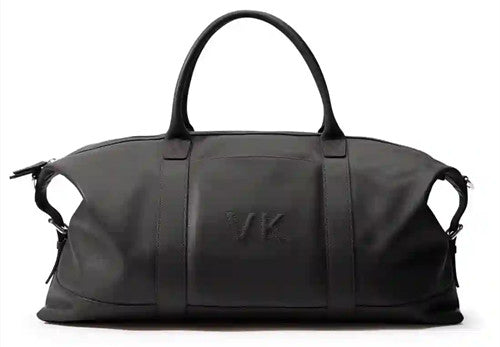 The Kessler Medium Duffle from Leatherology is a premium option for those who prefer a touch of luxury. Made from full-grain leather, it features a spacious main compartment and several interior pockets. This bag ages beautifully, acquiring a rich patina over time.
Mark & Graham Terminal 1 Checked Spinner Luggage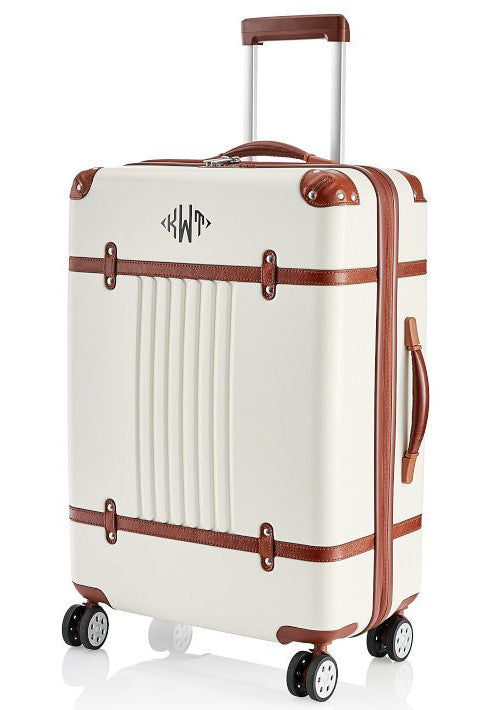 Mark & Graham's Terminal 1 Checked Spinner is an excellent option for those who prefer a rolling bag. This product offers the convenience of a rolling suitcase—the compact design of a duffel. The bag features a hard-shell exterior, a telescoping handle, and 360-degree spinning wheels.
Hook & Albert Leather Garment Weekender Bag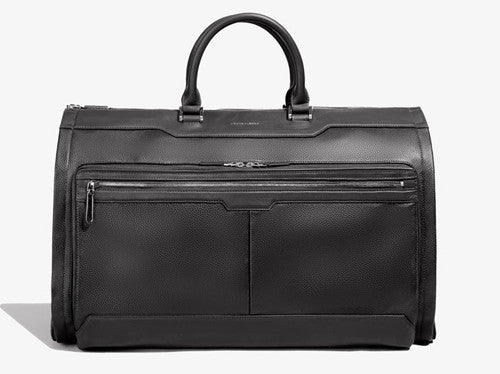 The Hook & Albert Leather Garment Weekender Bag is designed for the well-dressed traveler. It transforms from a duffle to a garment bag holding a suit or dress, plus shoes and accessories. This all-in-one solution is perfect for a formal event or business trip.
In conclusion, the perfect weekender bag combines style, durability, and intelligent design. Whether you prefer the traditional duffle, the convenience of a rolling suitcase, or the versatility of a backpack-duffle combo, a weekender bag on this list will elevate your travel game.
Author: Seuruyalvi - Chief Designer
My name is Seuruyalvi, as the chief designer at ZORNNA, I am responsible for overseeing the creative direction of the brand, from conceptualization to final product design.