Cowhide Purse: Definition, Qualities and Care
What is 
cowhide purse
A cowhide purse is a type of purse or handbag made from the hide of a cow. It retains the original skin and hair of a cow.
Cowhide purses are often decorated with intricate stitching, leather accents, and silver or gold hardware. They may also feature tassels, fringe, braiding, and other decorative elements.
Many cowhide purses are lined with suede or silk to add additional protection for their contents.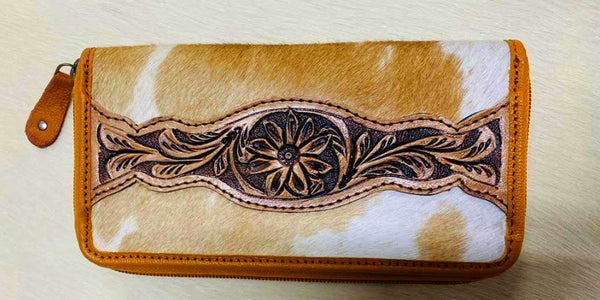 Cowhide purse and leather purse
Cowhide purse retains the original hair of cowhide for a natural, simplistic look; while the leather purse offers more customizability in appearance with its various textures.
Understanding The Qualities Of A Cowhide Purse
Texture And Durability
One of the most significant and appealing qualities of a cowhide purse is its texture. It retains the original skin and hair of a cow. It is incredibly durable and offers excellent resistance to wear and tear.
Resilience
Cowhide leather is incredibly tough, scratch-resistant, water-resistant, and heat resistant. The leather can withstand spills, stains, and the sun's effect better than other types of leather.
Sustainability
Cowhide doesn't deteriorate, and it is biodegradable. When you invest in a cowhide purse, you are not only investing in a functional accessory but a sustainable one.
Cowhide is Environmentally-Friendly
Cowhide is a byproduct of the cattle industry, which means it is a sustainable and renewable material.
How to Care for Your Cowhide Purse
Clean your purse regularly
One of the most important things you can do to care for your cowhide purse is to clean it regularly.
Keep your purse dry
Cowhide leather is not waterproof, so it is important to keep your purse dry at all times.
Condition your purse regularly
Cowhide leather can dry out over time, which can cause it to crack and become damaged. To prevent this, apply a leather conditioner to your purse regularly.
Store your purse properly
When you are not using your cowhide purse, it is important to store it in a cool, dry place. If possible, store your purse in a dust bag to keep it protected.
Be careful with your purse
Be careful when you are using your cowhide purse. Avoid placing it on sharp or rough surfaces, and don't overload it with too much weight.
Author: Seuruyalvi - Chief Designer
My name is Seuruyalvi, as the chief designer at ZORNNA, I am responsible for overseeing the creative direction of the brand, from conceptualization to final product design.
10 Types of Handbags for Daily Use
We're here to share with you the 10 different types of bag. From backpack, satchel, and clutches to hobo bag, bucket bag, sling bag, shoulder bag, and baguette bag. Read on to learn more about ea...
Read more