What Is the Best Way to Carry a Phone?
At times, clothing prioritizes style over practicality, which is why certain garments, such as pants, may lack pockets.
This issue is more prevalent for women, especially when wearing attire like yoga pants or dresses. Carrying a cell phone by hand is inconvenient and increases the risk of dropping or misplacing it. Furthermore, the constant need to hold the device can be irritating.
So, What is the best way to carry a phone?
1. Smartphone Cases with Built-in Wallets
One popular way to carry your phone is by using a smartphone case with a built-in wallet. These cases not only protect your device but also provide storage space for cards, cash, and other essentials.
2. Crossbody Cell Phone Purses
Crossbody cell phone purses are specifically designed to hold your phone securely while providing hands-free convenience. These purses often come with adjustable straps and separate compartments for your phone, cards, and other small items. Check out some of the best crossbody cell phone purses for women for stylish and functional options.
3. Phone Lanyards
Phone lanyards are a practical way to keep your phone within reach, especially during outdoor activities, concerts, or festivals. Simply attach the lanyard to your phone case and wear it around your neck or wrist for easy access.
4. Belt Clips or Holsters
For those who prefer carrying their phone on their waist, belt clips or holsters provide a secure and accessible option. These attachments can be easily clipped onto your belt or waistband, keeping your phone within reach while leaving your hands free.
5. Armbands
Ideal for runners, gym-goers, and fitness enthusiasts, armbands are a comfortable and convenient way to carry your phone during workouts. These adjustable bands secure your phone to your arm, allowing you to listen to music, track your progress, or take calls without missing a beat.
6. Fashionable Handbags with Dedicated Phone Compartments
Many stylish handbags now feature dedicated phone compartments, making it easy to access your device without rummaging through your bag. Like baguette bags and totes.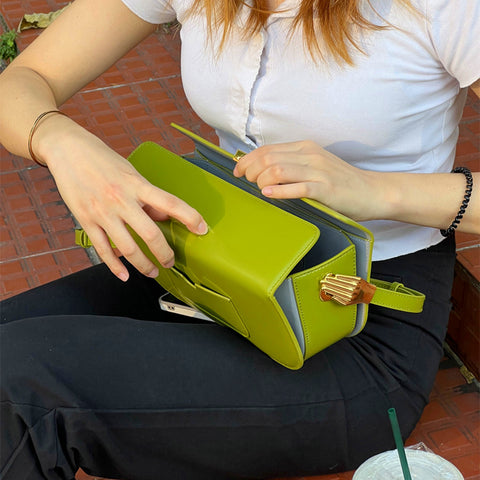 7. Phone Grips or Loops
Phone grips or loops, such as PopSockets or phone rings, can be attached to the back of your phone or phone case, allowing you to hold your device securely with one hand. These accessories can also function as a stand for watching videos or video calls.
The End
We're ZORNNA, a leading handbag brand in China.
Shop our Cell Phone Bag collections!
Author: Seuruyalvi - Chief Designer
My name is Seuruyalvi, as the chief designer at ZORNNA, I am responsible for overseeing the creative direction of the brand, from conceptualization to final product design.
One question that many leather enthusiasts ask is, "Can leather get wet?" In this article, we'll explore the answer to this question, as well as provide some tips for taking care of your leather it...
Read more