How to Wear a Baguette Bag and Make It Look Good
When we talk about a mix of classic and modern style, the Baguette Bag is a top choice. It has clean lines and is versatile. It also stands out because of its unique look. Many women love it and use it every day.
Even if its design is simple, the right pairing can make a big difference. It can make you stand out in a crowd of fashion lovers. In this article, we will dig deep. We will explore smart ways to style the Baguette Bag. This will help it become your fashion secret weapon.
Picking the Right Baguette Bag for the Occasion
The Baguette Bag is a fashionable accessory. It fits many events. But, for different places and activities, the bag type can change your look. The right choice can make you look stylish and feel confident.
For formal dinners, you need to look fancy and graceful. A Baguette Bag in rich material and soft colors is perfect. Think about bags in black or deep purple. Materials like velvet or silk are good. A bag with tiny metal or crystal details can add a touch of class to your evening gown.
For a casual coffee in the afternoon, you want to be relaxed. Pick a Baguette Bag that is light with bright colors or patterns. Light leather or canvas is a good choice. Bags with cute or abstract designs will make you look lively in the cafe sun.
For work, you need to be professional and not too flashy. Think about neutral colors for the Baguette Bag. Colors like gray, dark blue, or brown are good. They look serious but aren't too loud. For the material, leather or something tough is best. It makes the bag look neat. It also keeps your work things safe.
Baguette - $250
Styling the Baguette Bag with Different Outfits
The Baguette Bag is classic. But, it's also flexible for many styles. Each style might need a specific bag look or detail. Let's see how to pair the Baguette Bag with various fashion styles.
Vintage fashion is full of history. It often shows iconic looks from past times. To fit a Baguette Bag into this style, pick one with vintage details. Bags with embroidery, beads, or old-time patterns work well. For colors, think old gold, light brown, or pale purple. Wear it with a high-waist skirt, old-style heels, and a vintage hairpiece. The whole look will feel timeless.
Street style is lively and unique. It often mixes casual, sporty, and edgy vibes. The Baguette Bag fits this because it's handy and trendy. Bright colors like neon, silver, or fun patterns are great. Pair it with baggy sports pants, a hat, and bold sneakers. This will perfect your street vibe.
For business outfits, the Baguette Bag can be more than just practical. It can be stylish too. At work, you want to look pro but also trendy. A Baguette Bag with simple lines, neutral colors, and not too much bling is key. Dark gray, deep blue, or black leather bags are top picks. Wear them with formal pants, heels, and a neat top. This bag will then be both a helpful work tool and the star of your outfit.
Using Different Materials: The Charm and Strategy of Baguette Bag
Bag materials affect not just durability and feel, but also style. Different materials give the Baguette Bag different looks. Let's dive into these materials and how to pair them.
Leather is classic and durable. A leather Baguette Bag looks high-end and formal. It goes well with formal or business outfits. Think suits, sleek skirts, or classic jeans. Dark brown, black, or light brown are timeless. Brighter colors feel more modern.
Velvet feels soft and artsy. A velvet Baguette Bag gives a vintage and artsy vibe. It's best with casual, vintage, or boho outfits. Imagine a deep red or jewel-blue velvet bag with a boho skirt and tassel boots. Romantic, right?
Nylon is light and tough. A nylon Baguette Bag fits casual or sporty looks. Its smooth look pairs well with joggers, tees, and sneakers. And you'll find many bold nylon colors to make your outfit pop.
Mixing materials, like leather and velvet, is fun. The stiff leather and soft velvet can add layers to a look. For example, with a leather jacket, pick a light-colored velvet Baguette Bag. This mix feels modern yet cozy.
Aida baguette bag - $350
Choosing the Right Baguette Bag for the Season
As seasons change, so do our clothes. Bags, too, are key in our fashion choices. Picking the right Baguette Bag for the season can lift your look. Let's see how to choose based on the season.
Spring: Spring is lively. Bright colors, floral designs, or soft tones fit well. Think bags in leather or fine cloth. These add to spring's light feel.
Summer: Summer is hot. We need light and airy bags. Choose Baguette Bags in thin fabric or cotton. Bright colors like sky blue, grass green, or coral feel cool. Simple white or beige matches any summer outfit.
Fall: Fall is in-between. It's warm and cool. Medium-thick, warm-colored bags are best. Brown, olive green, or deep red fit fall's scenery. Materials? Leather or light velvet work. They feel warm but not too heavy.
Winter: Winter is cold. We need warm colors and thick materials. Dark colors like navy, forest green, or wine red add to dark winter clothes. Thick leather, fur, or velvet bags are top choices. They keep you warm and make your look classy and elegant.
Matching Accessories: Make the Baguette Bag Shine
The Baguette Bag is a fashion classic. It looks even better with other accessories. When paired with shoes, hats, or sunglasses, they "talk" to each other. This makes your whole look feel complete. It also shows your unique style. Let's see how to match the Baguette Bag with other items.
Shoes: Bags and shoes are big in any outfit. They should match. For example, classic black heels with a matching black leather Baguette Bag look elegant. Want to try something bold? Mix materials and colors. Think velvet bag with metallic heels. It's fun!
Hats: Hats show off your style. With the Baguette Bag, pick colors and styles that go together. A light straw hat with a bag in the same color feels like summer. A dark beret with a dark bag gives winter warmth and a retro vibe.
Sunglasses: Sunglasses protect your eyes and lift your look. Match their color to your Baguette Bag. Gold details on a bag with gold-framed sunglasses feel luxurious. It's also modern.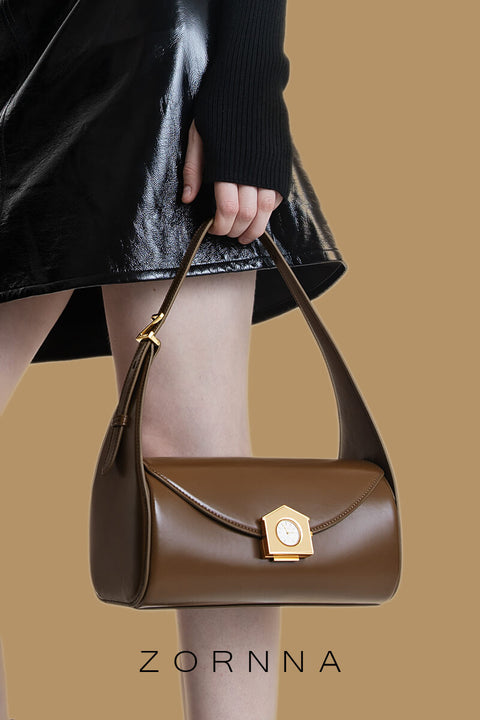 Lima baguette bag green - $250
Express Yourself: Show Unique Style with Baguette Bag
The Baguette Bag is more than just for stuff. It's a fashion statement. It's how you show your style. So, how can we use the bag to show our unique taste and feelings?
Custom Design: Many top brands now let you make your own bag. Pick your colors, materials, lines, and details. This way, your Baguette Bag is special and just for you. Like simple looks? Go for dark leather and clean lines. Love old-school? Choose vintage textures and details.
Add Charms: There are many bag charms you can buy. Like pendants, tassels, or scarves. Add these to your Baguette Bag. Change your bag's look anytime. Want fun? Add a cute toy charm. Want elegance? Tie on a silk scarf.
DIY Fun: Good with your hands? Try DIY. Sew a pattern you love on your Baguette Bag. Or use colored lines to decorate. It makes your bag stand out. Plus, it feels great to carry something you made.
Get Ideas from Fashion Bloggers and Celebs: New Ways with the Baguette Bag
Social media today gives us fashion ideas. Fashion bloggers and stars are top picks. They have cool style tricks. How do they style the Baguette Bag? Let's see!
Layer Up: Some bloggers mix bags. Like a small Baguette Bag with a big tote. This gives layers to the look. It's also handy. For shopping, put items in the big bag. Keep wallet and phone in the small one.
Bright Contrast: Some stars use the Baguette Bag to pop. Pair a bright Baguette Bag with all-black or all-white clothes. It makes the bag stand out. And it adds color to the outfit.
Play with Straps: Many change or add bag straps. Take a classic black Baguette Bag. Add a patterned or metal chain strap. It looks trendy and fun right away.
Mix with Fashion Trends: Some big stars mix the Baguette Bag with new trends. Like denim, military, or vintage styles. This shows their sharp fashion sense. It also gives us cool outfit tips.
Try Different Ways: Not just over the shoulder or crossbody. Some style gurus try new ways. Hold it in hand. Or wear it around the waist. This fresh way shows off style. It also spices up the look.
Author: Seuruyalvi - Chief Designer
My name is Seuruyalvi, as the chief designer at ZORNNA, I am responsible for overseeing the creative direction of the brand, from conceptualization to final product design.